Lists Are FUN
By Jenna Booth
I leave in fewer days than I have fingers on my hand, and it's getting so much more real every day. The past few vacations I have been on have always been kind of spontaneous – my dad is a pilot and we fly standby wherever we go, so our destination is determined by how open the flights are (his job is also a major influence on my passion for traveling). I have known I would be spending my summer in Australia for quite a few months, so it's really nice to have this sort of anxious anticipation as the date circled on my proverbial calendar gets closer and closer.
With all that excitement, it's normal to be a little bit nervous about some things, right? Right.
1. Airports are really big and scary when I'm by myself, which is super embarrassing to admit as a pilot's daughter.
2. I have not been on a flight over seven hours before. I'm going to shave my legs before I leave from D.C. and have to shave them again when I land in Sydney – THAT'S how long it takes to get there.
3. This will be my first internship. I hope they like me. I hope I like them. I hope I can excel in my work.
4. I WANT TO SEE AND DO EVERYTHING BUT THERE AREN'T ENOUGH HOURS IN THE DAY.
5. I need to somehow find time to work out, not only for personal enjoyment and sanity, but because I also have a responsibility to the boxing club to be in shape when I come back in the fall.
6. I wonder if they have as much gluten free and dairy free stuff as they do in the U.S. It would make my life so much easier.
7. The textbook for our Global Marketing course is 840 pages. 840.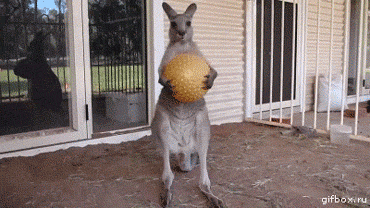 Things I'm excited about:
1. I get to wear business clothes every day. This is not a joke – I really do love them.
2. Kangaroo sightings.
3. The Sydney Opera House… amongst the plethora of other things to see and do.
4. Cooking meals with my fellow study-abroad-ers.
5. Going to Cairns to see the Great Barrier Reef. I once made an actual bucket list, and this was one of the top items.
6. Making friends with the strangers I will be sitting next to on the plane (unless they are freaked out when I ask them to tell me their life story).
7. I like to tell stories and I am counting on having a lot to tell by the end of the summer.